High Performance Engine Oil
KIC Ltd (Japan), Project µ worldwide distribution partner, now brings you, the enthusiast a high performance engine oil which is track tested yet surprisingly affordable. Specially blended to KiC specs & requirements, KiC High Performance Oil is manufactured by Japan's premier performance oil manufacturer.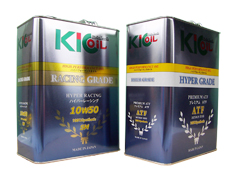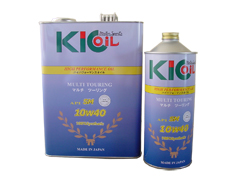 Benefits of KiC Oil
Hyper-U99i Ultra Viscosity Elastic Annex (Additive Exclusive to ASIA), special additive that coats all friction surfaces, providing a protection layer which greatly reduces wear & tear, enhancing engine performance due to the .hot & humid. climate in Asia
Excellent low temperature starts and cold start protection
High temperature stability
Superb oil pressure for more power
Low engine noise
Engine Cleaning Additive based on API requirements to meet automobile manufactures standards
Oil film retention
Shear resistance & anti-friction properties
The very same oil was used in the Project µ race cars in the ATCS, Macau GP GUIA race series and KiC/Flamez S13 Drift Car
Tested On The Racing Track
KiC High Performance Oil is extensively tested on the race tracks by Project µ race teams in Asia and its benefits are passed on directly to enthusiasts & motorists alike. KiC High Performance Oil is the proud sponsor of the Project µ race teams for ATCS (Asian Touring Car Series) and Macau GP GUIA race series.
Five Times Champion
The oil is used in the DC5 Honda Integra Type R (2 cars) & EK9 Honda Civic Type R (1 car) piloted by N.Yamano & Takeda Kanami in the various races and has helped propelled the race team to a 5-times win, including Johore Malaysia (2 wins), Japan (2 wins) & Korea (1 win) rounds in the 2003 ATCS. Since KiC High Performance Oil is used in the actual race cars, which are pushed beyond its limits - Guess what the oil can do for your car?
Experience the Difference NOW
KiC oil users will immediately experience a much smoother & quieter revving engine, increased torque and more power. It also prevents engine friction and damage under high rpm and speeds sustained for long periods of operation.
We recommend the usual regular oil change intervals of 8000km for street / daily driven cars and 5000km oil change interval for hard-driven modified cars which sees occasional track duties. If ever in doubt, don't be afraid to change a fresh supply of oil just to be on the safe side. It's never too expensive or too much of a hassle to change your oil regularly in order to protect your car's engine, keeping it in its tip top condition always.
See our dyno results done on a turbo charged performance car and a NA car and experience how KiC High Performance Oil makes a difference to your ride.
A Top Flight Racing Car Lubricant.
KiC High Performance Engine Oil. Your Second-to-None CHOICE to Enhance Racing Car Engine Performance!